Valve Grinding By Eddies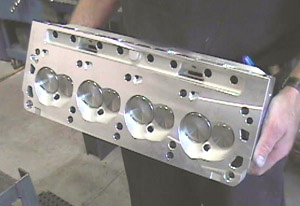 At Eddies Valve Grinding a lot goes into our valve jobs. Having all the machinery in house to do it right at our very own engine machine shop located in Sayreville, NJ is just one of the critical advantages we have to building your engine with superior quality that's affordable.
Usually, most older cars, classic cars and muscle car engines that have over 80,000 miles on them require head reworking, which includes a valve job especially if you have a "burned valve". If you have noticed a power drop and have noticed oil burning and/or smoke pouring from the exhaust (especially at startup) than you most likely need a valve job. On our performance engines we usually perform multi angle valve jobs that increase flow and performance.
Sometimes small hairline cracks occur where the valve meets the seat. Cracks are bad news because they can leak coolant into the combustion chamber damaging the cylinders and/or causing the engine to lose coolant and overheat. If cracks are found in any critical areas of the head, the head must either be repaired or replaced. Cracks in cast iron heads are most often repaired by "pinning" (installing a series of overlapping threaded pins). Cracks in aluminum heads are very common and can often be repaired by welding.
The advantages of having Eddies Valve Grinding perform a new valve job for your tired engine is that it can restore power and reduce oil burning and smoking. Other advantages you will notice are reduced gas consumption, which means better fuel economy along with the increased horsepower. With a new valve job by Eddies Valve Grinding you get new valves, springs, guides, seats, retainers and the usual quality cylinder head machine work that only Eddies can provide.
The Valve Job Process
A valve job typically begins by disassembling, cleaning and inspecting
the cylinder head. Cast iron heads are "Magnafluxed" to check for
hairline cracks. This involves applying a strong magnetic field to the
head and sprinkling iron powder on it. Cracks disrupt the magnetic
field and attract the iron powder, making invisible cracks easy to see.
If your engine has been overheated it is possible that the entire head could be warped so we routinely check for all engine defects when performing a valve job.
Overhead cam aluminum cylinder heads are often found to be warped (usually the result of overheating). If the condition cannot be corrected by resurfacing, the head can often be replaced by a new or used cylinder head and then we resume our process.
Next come the valves, guides and seats. The guides are checked for wear. In most cars, valve guides are almost always worn, so will most likely need replacement. We usually install new guides, guide liners or bore out the old guides to accept new valves with oversized stems. Aluminum heads have cast iron or bronze guides that can be replaced but most cast iron heads do not.
If the valves are to be reused, they will be inspected, checked for straightness then refaced. Many shops automatically replace all the exhaust valves to reduce the risk of failure (exhaust valves run much hotter than intakes and are much more likely to fail).
The seats in the head are either cut or ground to restore the sealing surface. If a seat is cracked or too badly worn to be refaced, the seat must be replaced. If that isn't possible (as is the case on many late model cast iron heads because the casting is too thin), then the entire head must be replaced. All aluminum heads have hardened steel seats that can be replaced.
The valve springs are all inspected and tested to make sure they are still capable of maintaining proper pressure. The spring retainers, keepers and other hardware is likewise inspected. Any worn or damaged components are replaced. New valve guide seals are always used.
The valves are then installed in the head and shimmed to restore proper valve height. This is necessary because machining the valves and seat alters their dimensions. Valve height is important because it affects valvetrain geometry and guide wear. If it is an overhead cam engine, the cam is also installed and the valve lash adjusted prior to returning the head to you.
The Multi Angle Valve Job To Increase Head Flow and Performance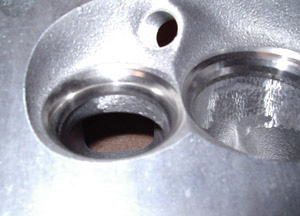 Our modified engines feature a multi angle valve job for increased head flow and performance. This usually entails placing different angles on the valve seat itself, increasing the flow of combustion gases and improving horsepower and torque. A multi angle valve job is the cutting or grinding of 2 or more angles on the seat and valve.
On most of our American engines we perform three angle/radius
valve jobs. This is more applicable in the American iron heads and
differs with some imports. We have seen most American cylinder
heads benefit from a three angle radius valve job, but mostly because
the American heads are so bad to begin with. Many American heads suffer from poor uneven castings right out of the box, so if performance
is your goal, doing a multi angle valve job with bowl blending would be
critical to your engines performance.
Our flowbench testing has proven time after time that the correct angles and angle widths is what's important. We found at Eddies that more CFM gains have been made through our special procedures of applying three angles or radiuses.
If your vehicle is a muscle car, classic car, street car or race car, Eddies will help you rebuild your engine using our 35 years of testing and flowbench work to build you the best engine possible. Please browse our engine combinations listed above or custom design one of your own and if you need help we will always assist you. If you are looking for cylinder head rebuilding that requires any valve work, call Eddie at 800-471-2325 and we will be happy to answer any of your questions.