Ford Engine Packages and Pricing
The following is Eddies Performance FordEngine Packages and Pricing. The 302 300 HP engine combination can be custom designed to tailor to your specific needs. All engines can be custom painted to match your vehicle at your request. We can outfit your engine with the exclusive March Performance serpentine belt system. We can also assist you in choosing the proper transmission and stall speed converter combination for your vehicle and have it shipped directly to you as your performance crate engine is being built.
302 Ford Crate Engine With 300 HP Built By Eddies Performance $5,700.00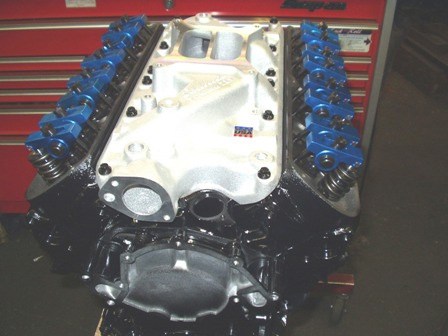 Short Block Assembly:
Remanufactured 302 Block
Bored And Honed With Deck Plate
Mains Have Been Align Honed
Block Has Been Decked
New Dura Bond Cam Bearings Installed
New Brass Freeze Plug And Oil Galley Kit Installed
Block painted with 3 coats of high temp ceramic engine paint customers choice of color (have your engine custom painted to match your vehicle for an additional $250)
A Remanufactured Cast iron precision ground micro polished 302 crankshaft
Set of Reconditioned I-Beam Connecting Rods With ARP Bolts And Bushed Pins
A New Set Of Speed-Pro or Keith Black Pistons
A New Set Of Clevite P Series Rod And Main Bearing
New Performance Rings Hand Filed To Match Application
The Complete Rotating Assembly Will Be Balanced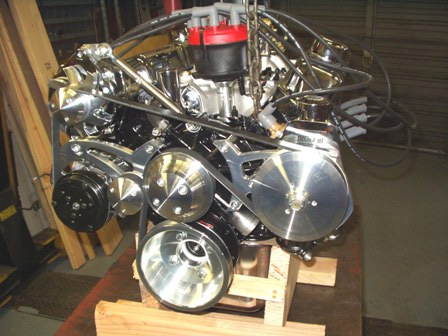 Fully Dressed Turn-Key Crate Engine Assembly:
All of the above plus the following:
New Custom Ground Hydraulic Flat Tappet High Performance Street Camshaft With A Muscle Car Chop
A New Set Of High Rev Lifters (anti-pump up)
New Three Piece True Double Roller Timing Chain Set
Remanufactured Ford Cast Iron Cylinder Heads
A set of push rods
A reconditioned set of Stamped steel rocker arms
New Melling High Volume Oil Pump
New Melling Oil Pick Up
New Chrome Front Sump Oil Pan And Dip Stick
New Aluminum Timing Cover With Scale
Engine Will Be Assembled With All New Bolts
New Fel-Pro performance gaskets
New Edelbrock Performer Series Intake Manifold
New Chrome Thermostat Housing To Match Intake
New Edelbrock Carburetor w/ Electric Choke
New 14" Chrome Air Cleaner
New MSD Pro-Billet distributor (Requires MSD 6AL ignition control)
New MSD Blaster II coil
New MSD coil bracket
(8) New AC Delco spark plugs
A new set of custom fit Taylor 8mm ignition wires (color of choice black, red, blue, yellow, green, orange no extra charge)
A cast iron water pump
New Chrome valve covers with baffles
New performance balancer
A New 168 or 153 tooth flex plate (for auto trans)
As We Assemble Your Engine We Take Several Pictures Throughout The Building Process So You Can See The Quality Of Parts And Workmanship That Goes Into Your Engine
Each Engine Is Live Run Tested, Timing Set And Carburetor Adjusted For Optimum Performance
We Video Tape Your Engine Live Run And Send You A Copy
All of our turnkey engines come with a 2 year unlimited mileage warranty
Eddies Performance Crate Engines - The Best Prices and The Best Parts
Our modified crate engines feature ported and polished aluminum heads, aluminum intake, chrome package (oil pan, dipstick, thermostat housing, air cleaner, timing cover, valve covers, breather) completely balanced rotating assemblies, aluminum rockers, high performance pistons, edelbrock or Holley carburetor (with electric choke), stainless steel modified valves, starter and flex plate.
Stage Four and Stage Five engines require a high torque starter. We can supply one for you for 225.00 extra. We can also include the March Performance serpentine belt system for alternator, power steering and ac for 1870.00 extra (depending on what your externals are).
Eddies Polished Package
Eddies understands that every customer wants choices. This is why Eddies offers our customers the option of having their crate engine built with our aluminum products in the traditional as-cast finish or with a show-quality polished finish. Order the "Polished Package" and you'll get an engine with exterior polished heads, intake manifold and water pump if applicable.
Eddies Crate Engine Warranty
All Eddies Performance crate engines come with a 12 month, unlimited mileage warranty. With this exclusive crate engine warranty, you get classic Eddies performance crate engine backed by a proven warranty for complete peace of mind.
If your vehicle is a muscle car, classic car, street car or race car, Eddies will help design and build the you the best crate engine combination that suits your vehicles needs. Please browse our engine combinations listed above or custom design one of your own and if you need help we will always assist you. So if you are looking for that specially built stroker engine or that turn-key drop in ready crate engines, call Eddie at 800-471-2325 and we will be happy to answer any of your questions.