Who is Eddie??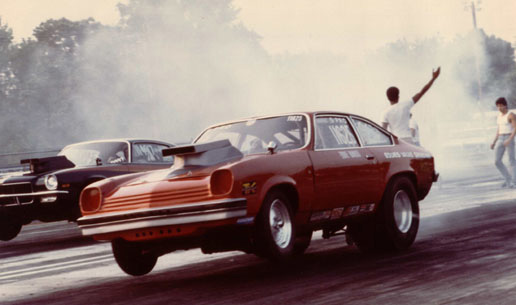 The Legendary Vega of "Fast Eddie" Banach Scored Major Victories At East Coast Tracks Abound
Who's Fast Eddie? The Profile Of A Racing Champion!
Eddie Banach Sr. is one of drag racings legendary racers.
During his time in the racing business Eddie racked up nearly
200 victories in his illustious career. As a child, Eddie became
an avid car enthusiast and would dream that one day he could become a great NHRA racing legend. So as soon as he turned
the tender age of 15, Eddie built his first car himself and raced
it in the streets of Linden, NJ.
At the 1965 opening of Raceway Park in Englishtown, NJ
Eddie was ready to go and raced that very first day with a
C-Altered Anglia with a Buick motor, another car which he
built himself. He also became the tracks youngest winner
at just 17 years old. A young Ed Banach then built several other cars such as a 57' Ford and a 62' Street Modified in the
obsessive effort to build a faster car. His incredible dedication
off the track proved it on the track and he became a winner everywhere he went. His engines were getting noticed by just about every competitor and by the age of 20 he had earned
the nickname of "Fast Eddie".
By the end of the 1960's Eddie began his greatest acheivement.
Since he was already had a reputation on the circuit as building the fastest egines, he decided to build his own machine shop, Eddies Valve Grinding. He quickly earned the immediate reputation as one of the fastest engine builders in the north. Over time his business grew to incredible heights utolizing his vast work ethic to produce relaible, fast drag racing engines.
With business going well, Eddie built a monster of a car in his Pro ET Camaro. With numerous victories in the Camaro, the next season saw Eddie then built his most successful ride, the Eddies Valve Grinding 1973 Super Pro Vega. Eddie tore his way through the ranks of drag racing and became noticed by the big dollar racing operation of Larry Stegiel. Larry had been defeated by Eddie at several meets and he was looking for a top driver to run his car.

At that point Eddie had achieved a racers dream, to drive for someone else and have an opportunity to become a champion. For over two decades Eddie had built all his own machinery and now he was racing for someone else that would foot the bills. Eddies success continued and in Larry's Monza he scored top time in the 1979 Summernationals.
With the vast success of Eddies Valve Grinding, Eddie decided to hang up the helmet to keep up with the increased business in 1985. He then trained his young son Eddie Jr. to have the same passion, dedication and work ethic on what it takes to be a champion and together they made Eddies Valve Grinding the great success that it is today.

Enjoy some of the clips that celebrate the racing career of "Fast Eddie":