Porting and Polishing For Maximum Horsepower By Eddies Performance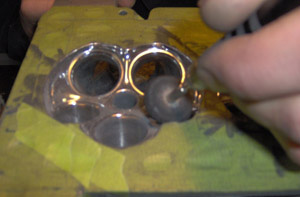 Polishing and porting your engines vital breathing parts is an important part of blueprinting your motor for maximum performance. Many street performance and racing engines that go through our machine shop go through a precision port and polishing process. This requires smoothing out and polishing of the intake and exhaust ports so that gases would
flow through quicker. Porting, on the other hand, is enlargement and reshaping of the ports themselves. This is usually done when larger valves are installed. We have also found that the type of grit used in the intake is also important for proper atomization of gas/alcohol droplets or air/fuel mixture.
Why is port and polish work so important to your engine's performance?
It reduces the restriction in the engine's intake and exhaust chambers. Reduce that restriction and you let more air into the cylinders. If you have more air, you can add more fuel. The result is increased horsepower.
Most of the work in our porting projects is focused on reducing those restrictions which are caused by: 1) "steps" that may obstruct intake air flow as it transitions from the intake manifold to a smaller intake port
entry in the head; 2) casting bumps, ridges or other marks, such as those you may find on port floors or roofs; 3) sharp edges, such as those you will find around the valve guide bosses at the top of the valve pockets; and 4) the point where the intake port floor curves down to the valve seat.
Cylinder Head Porting and Polishing



This port and polish process to the cylinder heads and intake ensures that the flow mixture enters the cylinder head chamber with the maximum amount of velocity. The same goes for the gentle reshaping of the exhaust to ensure a match with the header opening to prevent turbulence in the exhaust chamber.
To start the porting process we use CNC milling. This combined with hand grinding and a series of Carbide bits with different lengths, shapes, sizes, and tooth counts to perform the porting process. Depending on material reduction we sometimes choose to use air grinders for all porting processes including carbiding, stoning, cartridge rolling, and flapper sticking. We use electric grinders mostly for carbiding, stoning, and cartridge rolling and basically use air grinders for flapper sticking.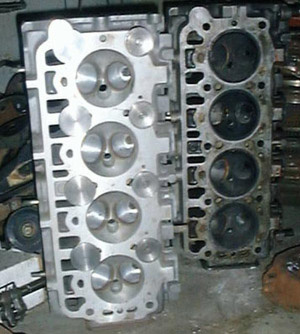 CNC milling and carbide cutting is used to remove the mass amounts
of material in the aluminum and cast iron pockets. This step is the most crucial part of the porting process because it is when most of the
shaping is performed. Some minor shaping is done throughout the stoning, cartridge rolling and polishing, but most of the cylinder head porting is performed with carbide cutting.
Stoning is performed just after the Carbide work is complete. There
are two purposes for stoning. The first is to remove the marks left by
the Carbide bits. Stoning removes less material then Carbiding, so it
is also used to perform the minor final shaping of the port.
At Eddies Performance we use two different polishing techniques
which are Cartridge rolling and Flapper Sticking. The cartridge roll process removes all the stone marks and leaves a smooth but non uniform finish to the surface of the port. After we have achieved our desired cartridge roll finish we then proceed to the Flapper Stick. A
five inch long piece of Emory cloth, of our desired grit, is placed in the slot cut in the mandrel and wrapped around until tight.

Once the mandrel begins to spin inside the port, it flaps the Emory
cloth around the port (hence the name) giving it a very uniform polish.
The Finest Professionals at Porting and Polishing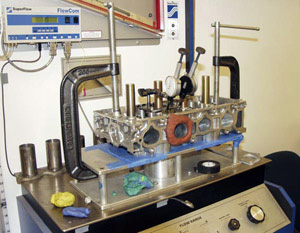 The process of polishing and porting is an art form mastered by years
of experience at Eddies Performance. Some of the motors we see that have already been modified are ruined by improper port and polish by other professional engine builders. This is caused by removing too
much material during porting and polishing, causing improper
induction, pressure leaks and poor heat displacement in the cylinder head and piston chamber.
When a full port and polish with port matching is done properly to a performance engine we should see anywhere from a 5% to 10% horsepower gain to your engine. With our race engines the heads get flowbenched to ensure perfect flow at extreme horsepower figures.
Quality Control With Your Engine Is Our #1 Priority
At Eddies Performance quality control is an important factor in our customer experience. Careful measures in checking and double checking clearances is our precedence in producing a fast, reliable engine that will bear our responsibility.
If you would like to discuss your application please give us a call on our toll free number 1-800-471-2325 from 9am to 5pm EST.